by Kendi Gikunda
Today we sat down and had a chat with Apollo Eric of Point50Capital. This is a guy who cycles to work, IN NAIROBI. He runs, roller blades and does yoga. He is up by 3:00 am or 4:00 am Kenyan time depending on what he is doing on that day. He has so much energy you would feel unhealthy looking at him.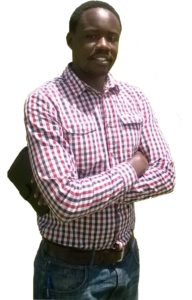 Let's start at the beginning: what did you study?
I studied Medical Biotechnology but I focused on IT. I attended classes with Computer Science students and I knew I loved IT from early on so I devoted a lot of my time in IT classes even those that weren't necessary just to gain the knowledge.
How did you get into IT and entrepreneurship?
I have never had a normal job like an 8-5. I was an entrepreneur from early on. When I was a teenager I was a hawker to make money to support my family, pay for my school fees and those of my siblings.
After I got my degree I couldn't get a traditional job as much as I wanted to, apart from contractual work here and there as an IT freelancer. Tired of dropping my CV's everywhere getting back to the house around noon, I would go online to do trading. That's how I learned to trade: online. Just in case anyone will be reading this and thinks online trading is a quick fix to getting rich: think twice before you start! The first few years I lost as much as I gained and I was one of the more lucky ones! It is very easy to get lost in the excitement, overcommit and lose all you have.
Read the full interview here (including recommended resources on blockchain).